Our family caring for your family.
At Animal Medical Center of Chicago, our team mission is to compassionately deliver excellent medical and surgical care to every patient every day in a fear-free, friendly environment.
Our family caring for your family.
At Animal Medical Center of Chicago, our team mission is to compassionately deliver excellent medical and surgical care to every patient every day in a fear-free, friendly environment.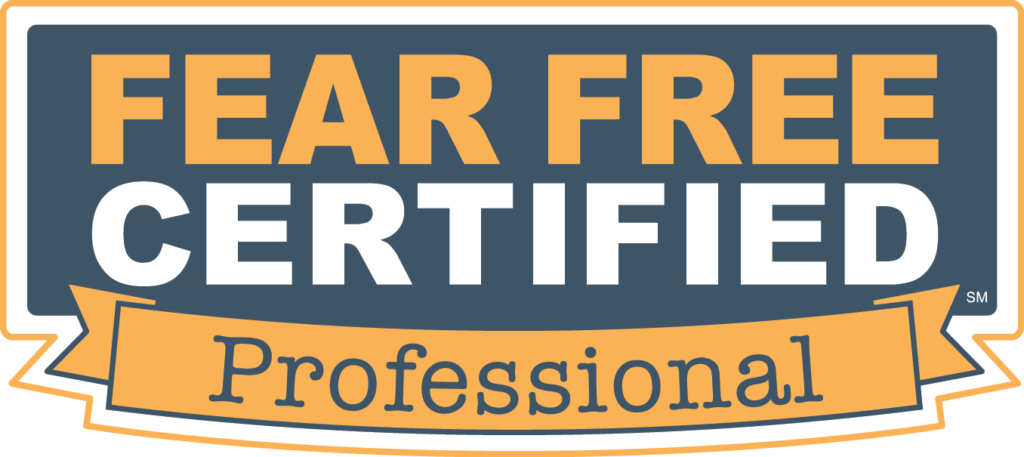 As a Fear Free Certified Practice, our entire team is committed to preventing and alleviating fear, anxiety, and stress in pets. Learn more at fearfreepets.com.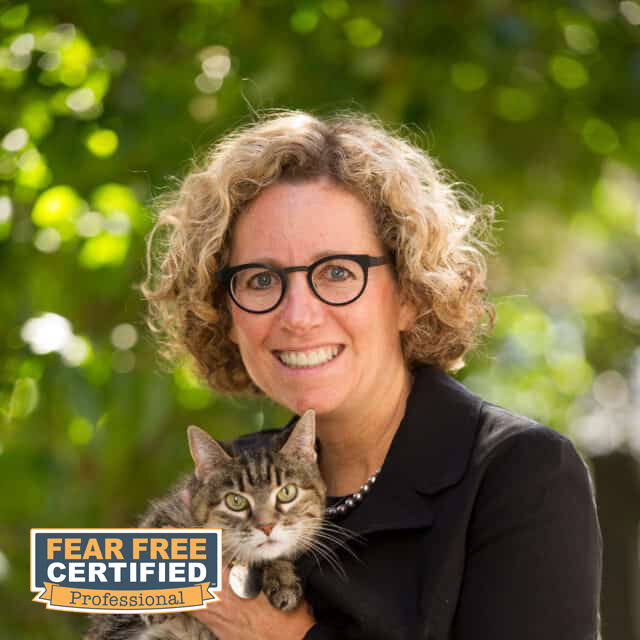 Donna Solomon, DVM
Donna Solomon, DVM
Veterinarian
Michigan State University, '86
I always knew I wanted to be a veterinarian. In first grade, I would bring home dogs and cats that I believed to be homeless. Fortunately, my older sister would later return them to their appropriate homes. As a teenager, I spent my summers following a large animal veterinarian on his farm rounds in Petoskey, Michigan. In the winters, I would volunteer at a local animal shelter and give baths to pets waiting for their forever home. In high school, I was a veterinarian's assistant at a local veterinary clinic in Southfield, Michigan. Luckily, during my third year of undergraduate education I was accepted to Michigan State University's College of Veterinary Medicine. After a grueling four years of schooling, I graduated in 1986 and have loved practicing veterinary medicine every day ever since.
My first job as a veterinarian was in Huntington, New York where I practiced for one year in a small animal hospital. I loved New York, but I knew that I would never be able to afford to open my own veterinary clinic. So I moved to Chicago, which is a more affordable, but equally exciting city. After practicing a few years in a fast paced high quality clinic, I finally realized my dream and opened my own practice in May 1990 – the Animal Medical Center of Chicago. I renovated a beautiful Victorian house in the pleasant Lakeview neighborhood and turned it into a state of the art veterinary clinic.
It's been almost twenty-eight years since I graduated from veterinary school, and I still love talking to clients, the challenge of the diagnosis, designing a treatment plan, and watching my patients improve. My practice caters to those pet owners that treat their pets like family members. What makes my practice special is that we treat our clients like we would want to be treated – with respect, understanding, and empathy. If you ask my clients what makes me special as a veterinarian, I believe that they would say I have great intuition and diagnostic skills. My practice has a strong emphasis on pain management, dental care, preventative and internal medicine.
Client education is a top focus of mine, which does not end in the examination room. I make myself available to my clients for telephone updates and consultations. In addition, I write a reoccurring blog for The Huffington Post on timely pet care issues. It is an opportunity for me to share my veterinary knowledge and experience with many pet lovers across the country. Educating my audience, as well as my clients, is an issue that I am passionate about. I believe an educated pet client is the best pet owner.
I am married to Brad Ginn, an Ombuds at Northeastern Illinois University in Chicago. We are the proud parents of two sons, Jacob and Sam. Jacob is a film student at the University of Michigan, and Sam is a junior at Oak Park River Forest High School. We share our home with two cats, Lemon and Oreo, and a golden retriever, named Zack.
I have been exceedingly fortunate that my childhood dream came true and I can practice as a veterinarian in the Chicago area. I have a wonderful clientele who have entrusted me in the care of their pets and have an amazingly talented staff that is a pleasure to work with. I am proud to be a Chicago veterinarian and love caring for dogs and cats every day.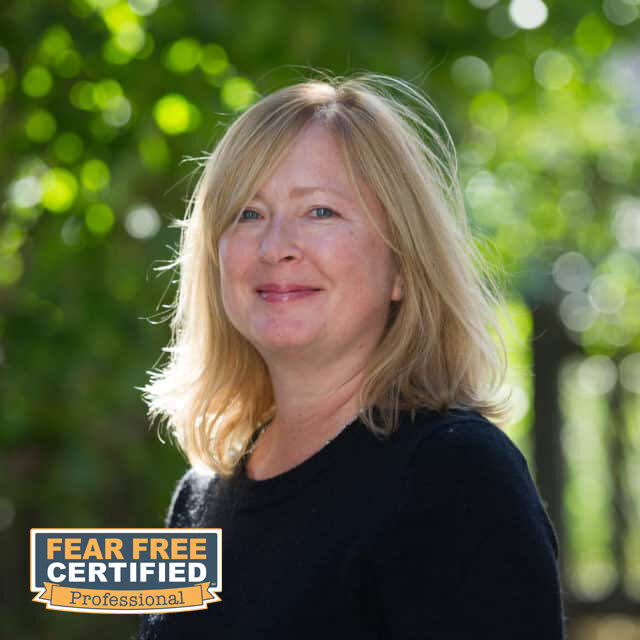 Pamela Janik, DVM
Pamela Janik, DVM
Veterinarian
University of Illinois, '91
Dr. Janik was born and raised in the suburbs of Chicago and has been involved in veterinary medicine her entire life. Her father is a retired veterinarian so she has always been surrounded by a variety of animals and their caregivers.
She graduated from Miami University before attending veterinary school at the University of Illinois. She worked at a small animal hospital in the suburbs prior to moving into the city and beginning work at Animal Medical Center of Chicago. Dr. Janik enjoys working with senior and geriatric patients and is very interested in pain management. She has been at Animal Medical Center since 1999.
When not working, she enjoys trying new restaurants, reading and outdoor activities. She explores Chicago's neighborhoods with her dog Tesla whose hobbies include barking at people and taking over the bed.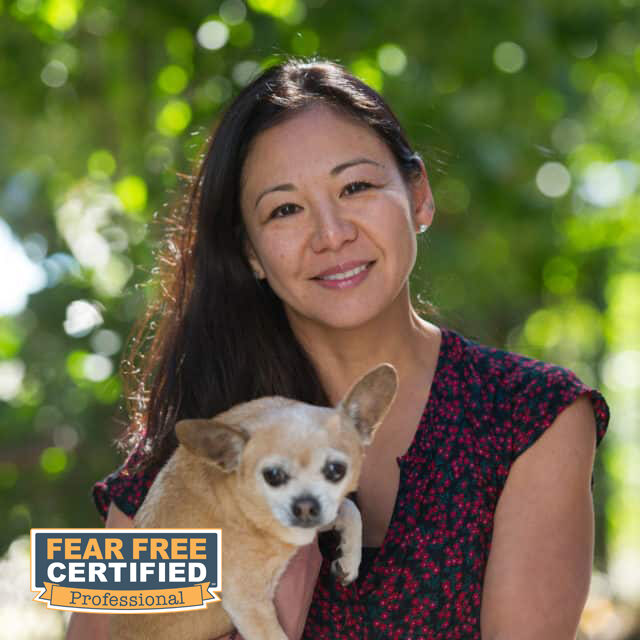 Meg Ogishi, DVM
Meg Ogishi, DVM
Veterinarian
University of Wisconsin-Madison, '90
From a very young age Dr. Meg Ogishi knew she wanted to work with animals and become a veterinarian. Growing up in Greendale, Wisconsin, she would find baby bunnies to care for, and was always searching for toads and snakes to play with. She also had a parakeet, fish, rabbit, and an ill behaved Cocker Spaniel named Don. She has no idea why she chose that name! Meg truly enjoyed taking AP biology her senior year in high school, and this experience made her dream of becoming a veterinarian seem realistic.
Meg obtained a Bachelor of Science in Zoology from the University of Wisconsin-Madison in 1996. During her undergraduate studies she was a ski instructor for the ski club, volunteered in the wildlife department of the Milwaukee humane society and also cleaned kennels and large animal stalls at the UW Veterinary Medical Teaching Hospital. She even kept a hamster in her dorm room closet her freshman year of college, much to the chagrin of her roommate. During veterinary school, she worked as an operating room assistant/technician in both large and small animal surgery. She graduated from University of Wisconsin School of Veterinary Medicine with Phi Zeta honors in May of 2000. Meg worked at Carlson Animal Hospital in Oak Park, Illinois immediately after graduation, and continued to work there until September of 2012, when she joined the Animal Medical Center of Chicago team. She loves working in the city, and being a part of such a talented and caring team.
When she's not at work, Meg enjoys hiking, snowboarding, running, reading and has recently taken up sprint distance triathlons. Meg and her husband Ryan live in the Andersonville neighborhood. They have a 5 year old daughter named Naomi, who loves cats and plans to become a cat doctor. Meg and Naomi volunteer together at Tree House cat shelter. Their household also includes Abigail a 14 year old red Doberman, Sheneh an 8 year old Pitbull mix, Pig a 9 year old cat, Sophie a 1 year old aquatic turtle, a beta fish and 2 chickens.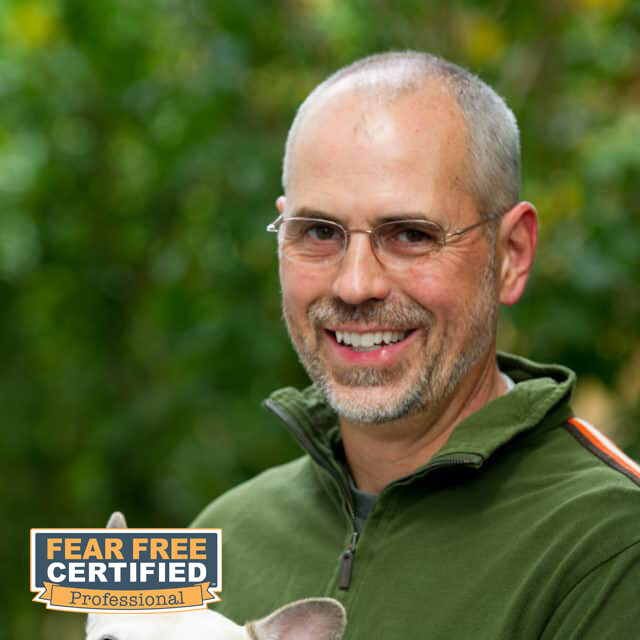 Tim England, DVM
Tim England, DVM
Veterinarian
Michigan State University, '87
I was born in a rural area outside of a very small town in southern Michigan. My parents still live in the same home near Parma where I was raised. We had dogs, cats, hamsters, fish, rabbits, geese, ducks and assorted chickens during my childhood. I have always been fascinated by animals and loved learning everything I could about pets and wildlife. I can remember watching Wild Kingdom and documentaries on animals from a very young age. The idea of becoming a veterinarian was very appealing to me as a young child, but was tempered by my aversion to blood and body secretions. Luckily, I outgrew that by high school when I decided to attend Michigan State University with the goal to attend veterinary school.
During my pre-veterinary coursework at MSU, I majored in Physiology and Fisheries & Wildlife. Through hard work and study, I was accepted into the veterinary program in my third year of undergrad. I received a bachelor degree in Veterinary Medicine from Michigan State University in 1987 and my doctorate degree in 1989. During my time at MSU, I realized that exotic pets were not receiving the same level of medical care as conventional pets like dogs and cats. I was lucky enough to participate in an externship in Miami, Florida which allowed me to learn skills in the care of unconventional pets and zoo animals. I had patients there which included leopards, monkeys, crocodiles, and many species of parrots.
My first years of practice were spent in Jackson, Michigan. Initially, I worked at a small animal practice which allowed me to continue to see exotic pets, as well as, dogs and cats. In 1992, I started my own practice in Jackson and three years later designed and oversaw the construction of a new veterinary hospital. Our success allowed the hospital to quickly expand to a three doctor practice to care for our growing number of patients. In 2008, I sold the practice and joined the team at Animal Medical Center of Chicago.
Since joining this practice I have continued to enjoy treating dogs, cats and some exotic pets. I have a developed an interest in veterinary dentistry after having the opportunity to learn from Dr. Cindy Charlier, a board certified veterinary dentist. I also have an interest in nutrition and prevention of pet obesity. I am a member of many veterinary associations, both locally and nationally. I currently serve on the Animal Welfare Committee of the Association of Avian Veterinarians.
Outside of work I have multiple interests, including international travel, photography, and eating good food. My partner and I have a small farm in Southwest Michigan where we grow fruits, vegetables, and bees for honey production. We share our home with a French bulldog named Gladys, as well as, two senior citizen parrots, Griffin & Gator. We also have a cat, Sprout and a koi pond at our home in Michigan. I enjoy working at AMC because of the commitment to quality and the expectation of our clients to provide the best care for their pets.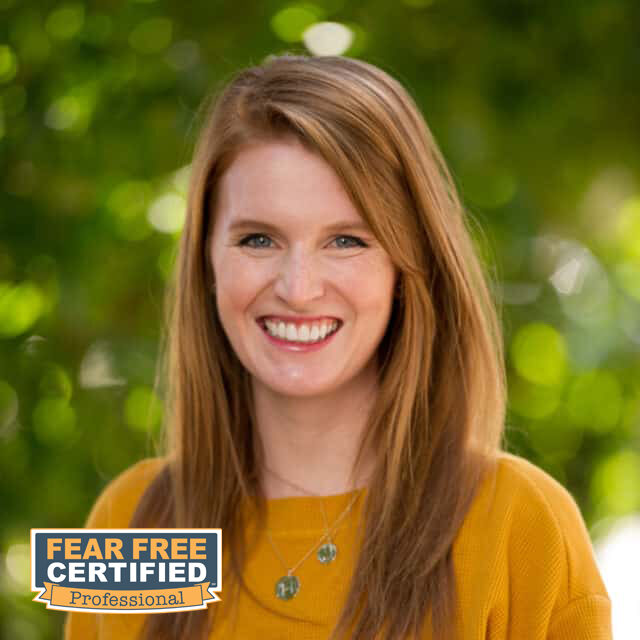 Elaine Simpson, DVM
Elaine Simpson, DVM
Veterinarian
The Ohio State University, '14
Since childhood, Dr. Elaine Simpson has had a passion for animals. Growing up in the northwest suburbs of Chicago, she spent time at Busse Wood: canoeing, fishing, and searching for wildlife. She even created a small pond in her backyard for the fish she caught – ultimately deciding it was best for them to go back and live in the wild.
Dr. Simpson obtained a Bachelor of Art in Biology from Case Western Reserve University (Cleveland, Ohio) in 2010. Not only focused on her studies, Dr. Simpson ran cross country and track. She ultimately achieved All-American status at the national cross country meet in 2009. Dr. Simpson went on to study Veterinary Medicine at The Ohio State University, graduating magna cum laude in 2014. After graduation, she participated in a veterinary internship at Colorado State University which furthered her knowledge in internal medicine and emergency medicine. During this internship, she rescued and adopted a homeless pitbull-mix with fractured hindlegs. Lentil, who is now 3 years old, has become a wonderful city dog!
After Colorado State University, Dr. Simpson returned to the Chicagoland area where she worked at Countryside Veterinary Center, as both a general practice and an emergency medicine veterinarian. Her favorite parts of veterinary medicine are internal medicine, feline medicine, and cardiology. She also loves developing long term relationships with owners and their pets.
During her free time, Dr. Simpson loves to spend time outdoors, gardening, and with her family and friends. She also loves eating at new restaurants! In addition to Lentil, Dr. Simpson shares her home with a 7-year-old orange tabby cat, named Finn, who can be quite sassy!
Dr. Simpson joined the AMC team in 2017 and is excited to be practicing with such a dedicated and caring group.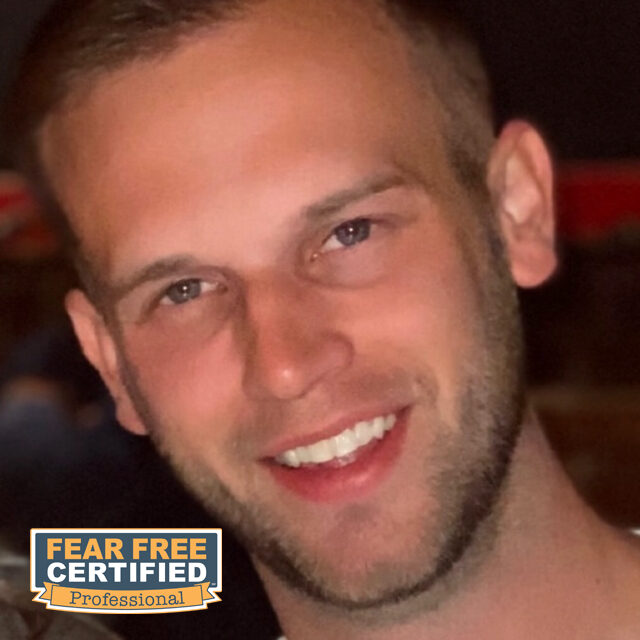 Joshua Hardy
Hospital Practice Administrator
Over the last decade, my professional career has been strictly focused in veterinary management where I have found tremendous joy in the nuances and complexities that it holds. My love for veterinary medicine began when I was twelve years old and was gifted a Maltese. Unfortunately, I soon discovered that she had a serious heart issue and would need chronic medication that my family could not afford. My emotional devastation was quite clear and the local town veterinarian took note. He made me a kind offer that set my life on a new trajectory. His offer was simple, come to his clinic every day after school and help out in exchange for the veterinary care that my pup would need. Unbeknownst to both of us at the time, my short term employment as a child cleaning cages evolved into a veterinary assistant position that I held until I started college.
At Emmanuel College in Boston,Massachusetts, I studied Management and Accounting while working at Banfield Pet Hospital as a veterinary assistant. Upon graduation, I was promoted to Hospital Manager. Over the next few years I grew my management responsibilities and territories to include 7 hospitals across the greater Boston area. Many years later, after recognizing the positive impact that I could make in patient care and staff development, I decided to leave the corporate world and become a co-owner of the the same small town clinic that I started my career in as a child.
I don't know if the pandemic triggered this desire or what, but I was ready for a new adventure. Never lived outside of New England, I decided to move to Chicago. Since the move, me and my white Miniature Schnauzer sidekick Lexi have enjoyed exploring the neighborhoods and all that Chicago truly has to offer. The two of us can usually be found walking along the lakefront trail, kayaking the Chicago river or exploring a new restaurant. After joining the Animal Medical Center of Chicago team, I have truly enjoyed getting to know all the amazing associates, doctors, pets and am happy to be a part of the AMCOC family.
Certified Veterinary Technicians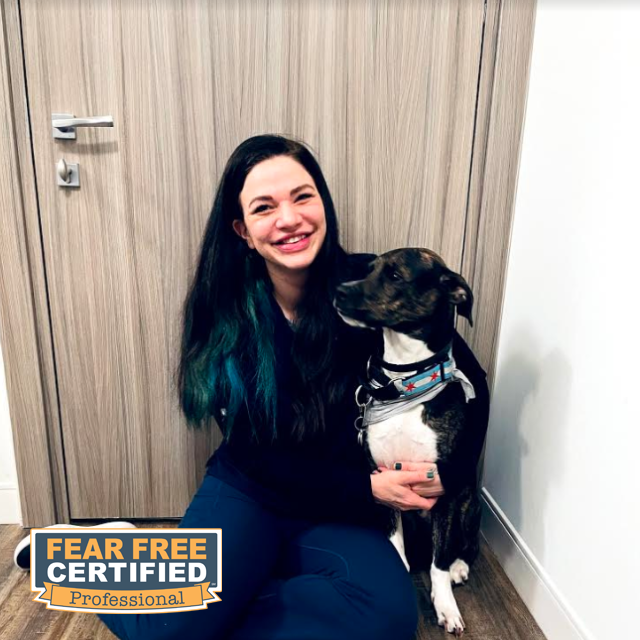 Emily, CVT
Technician
Emily is thrilled to be a part of the AMCOC team and looks forward to getting to know all the fabulous clients and patients. Although she has a degree in Fiction Writing from Columbia College in Chicago, she realized working with animals was her true calling. Emily attended the Veterinary Technician Program at Fox College Chicago and passed her boards in 2011. She shares her home with her husband, daughter, two dogs, and four cats. If she's not vet tech-ing, she's probably singing, riding her Peloton or both.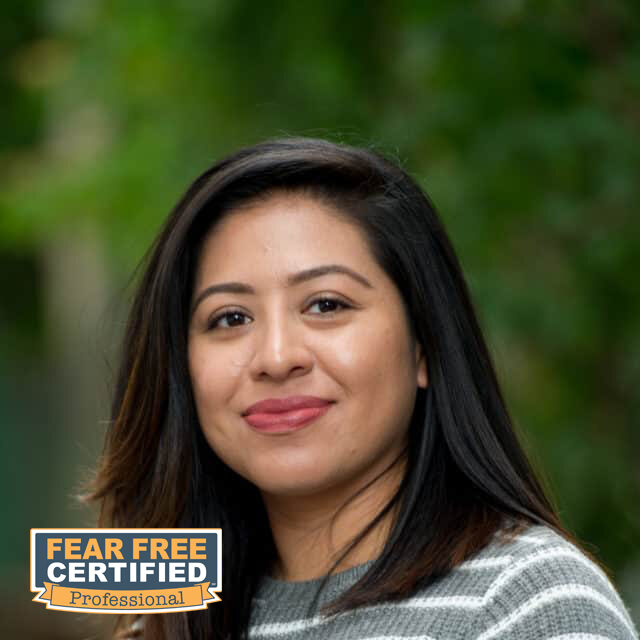 Jessica, CVT
Technician
Fox College, 2013
What I like best about AMC: Working with a wonderful staff that is very caring and welcoming.
Favorite AMC Memories: Getting to know all of our wonderful patients, I love when they come in so excited to greet us.
Greatest Life Accomplishment(s): Graduating from tech school and becoming a CVT. I love what I do each day and caring for our patients is a very rewarding feeling.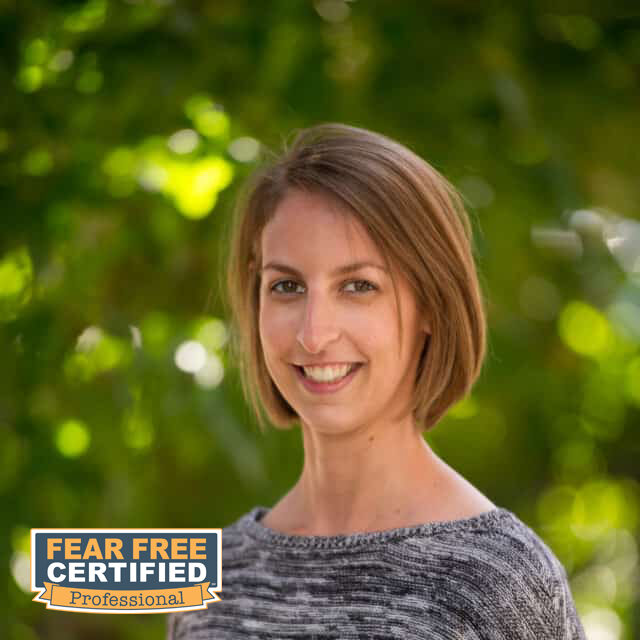 Erin, CVT
Technician
Michigan State University, '08
Joined AMC: May 2014
What I like best about AMC: The wonderful doctors and staff that truly care for the animals and all of our great clients.
Favorite AMC Memories: Being able to care for and help the sick patients. I also really enjoy the new puppy and kitten visits!
Greatest Life Accomplishment(s): I am extremely proud of my education and the career that I chose. While there are hard days, most are very fulfilling and I am glad I can spend my days taking care of animals.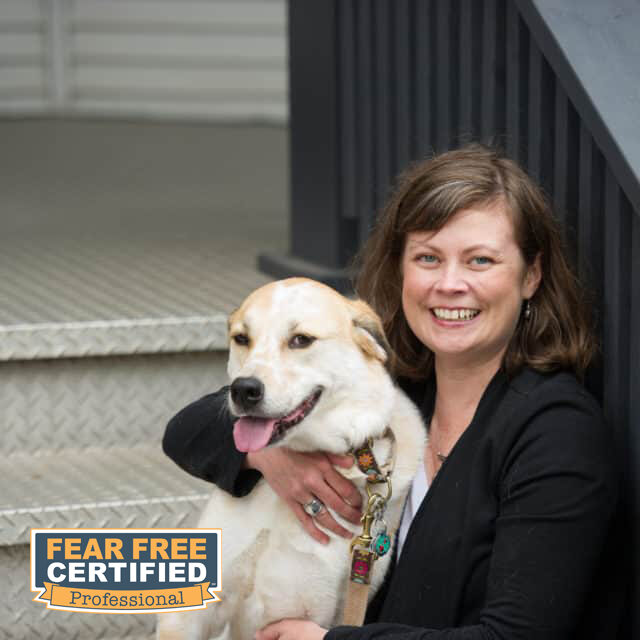 Natalie, CVT
Technician
Parkland College, '05 and University of Mississippi, '98
Joined AMC: June 2005 and November 2010
What I like best about AMC: Working with such a great group of smart, dedicated, motivated, and hard-working people. Also, our patients are absolutely our highest priority here.
Favorite AMC memory: When Tara's fractious cat Simon was sedated, but still managed to slap me across the face so hard that it could be heard across the room!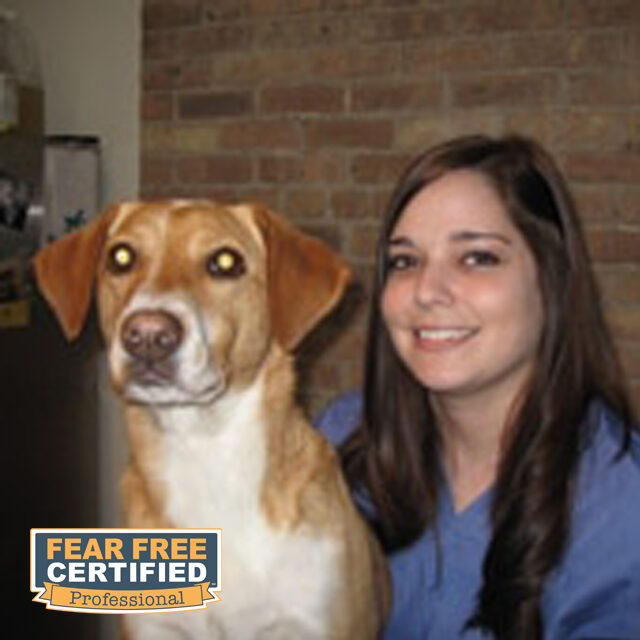 Melissa, CVT
Technician
Fox College, '10
Joined AMC: April 2013
What I like best about AMC: The compassionate and caring coworkers coupled with all the cute, furry creatures that come through the door.
Favorite AMC Memories: When a little princess hamster broke her leg and Dr. England splinted it with the tiniest of materials. It was a neat thing to be a part of.
Greatest Life Accomplishment(s): Completing scho0l, moving to the city, and adopting the quirkiest most loyal dog ever, Buster!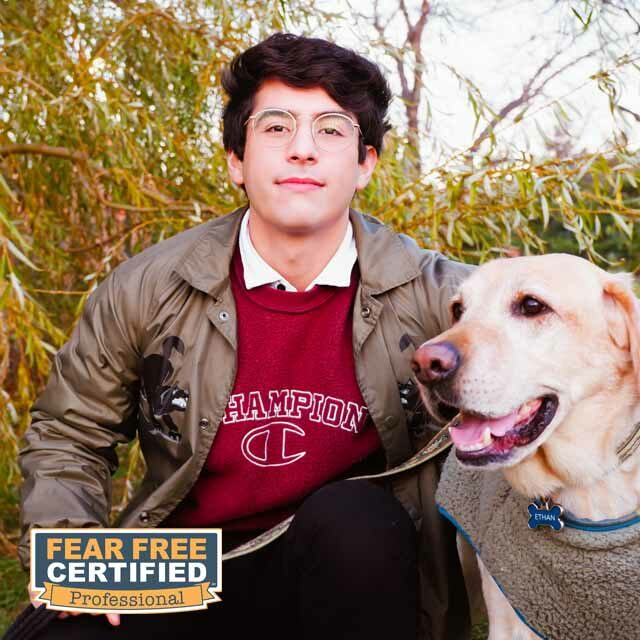 Jesus
Veterinary Assistant
Jesus
Veterinary Assistant
Jesus is a graduate from The University of Illinois Urbana-Champaign with a degree in Animal Sciences. Beyond his education, he is an animal lover—from dogs to horses. His love for animals and the sciences developed as a child, caring for small birds and dogs at a very young age. His favorite experiences with animals include adopting his Labrador Retriever, Ethan, with the Champaign County Humane Society, and assisting in the rescue and care for his pet rabbit, Frida, with the Red Door Animal Shelter. In his free time, he enjoys hiking, cooking, caring for the planet, collecting vinyl records, volunteering at animal shelters, and above all, playing with his goofy dog. He feels extremely lucky to be able to share his love for animals and medicine with the amazing people and pets at AMCOC!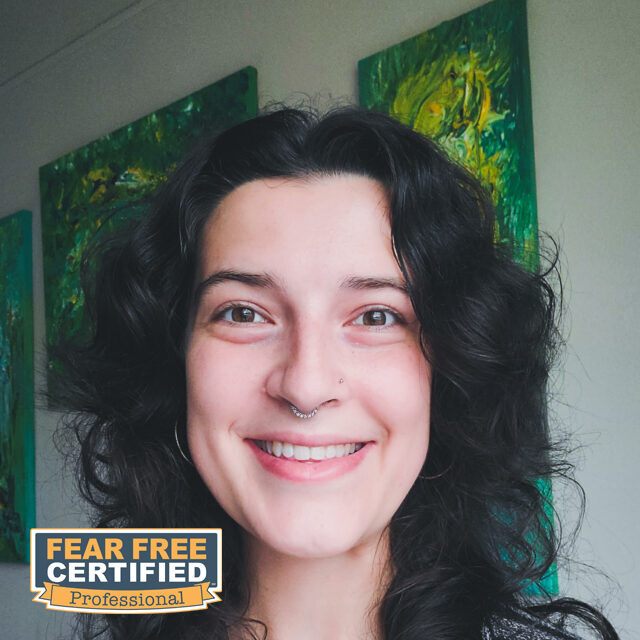 Jo
Veterinary Assistant
Jo is an animal lover, artist, and is passionate about science education. If she isn't working on a new painting, photo project, or collaborating with other artists, you'll find her out swimming in Lake Michigan or hiking a trail somewhere remote. Jo is a cat lover, with a special place in her heart for special needs and elderly kitties. She lives in Chicago with her partner and cat.
What I love most about being at AMCOC is playing with all of the adorable pets while I work.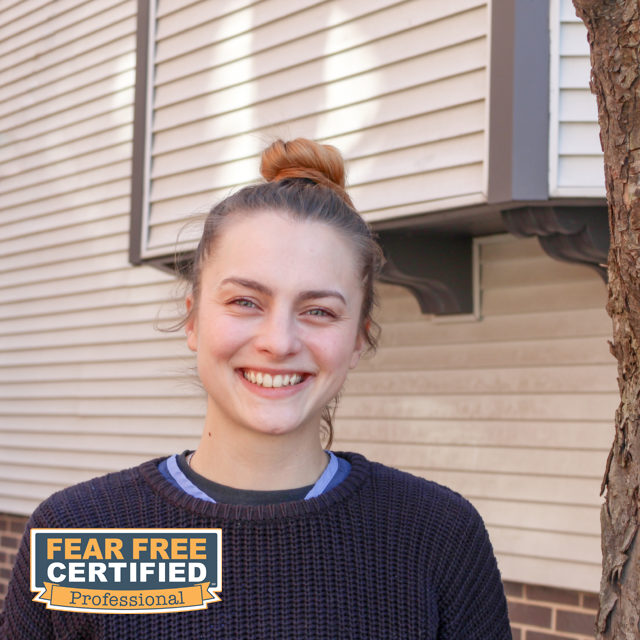 Alex
Veterinary Assistant
Alex
Veterinary Assistant
Prior to joining the team, I heard so many amazing things about Animal Medical Center of Chicago and their staff. Since working here, I have found these remarks to be true! Everyone here is bright, kind, and genuinely passionate about pets.
What I love most about being at AMCOC is playing with all of the adorable pets while I work.
My two greatest achievements are moving from a small town in Ohio to New York City for a modeling career and rescuing my sweet cat!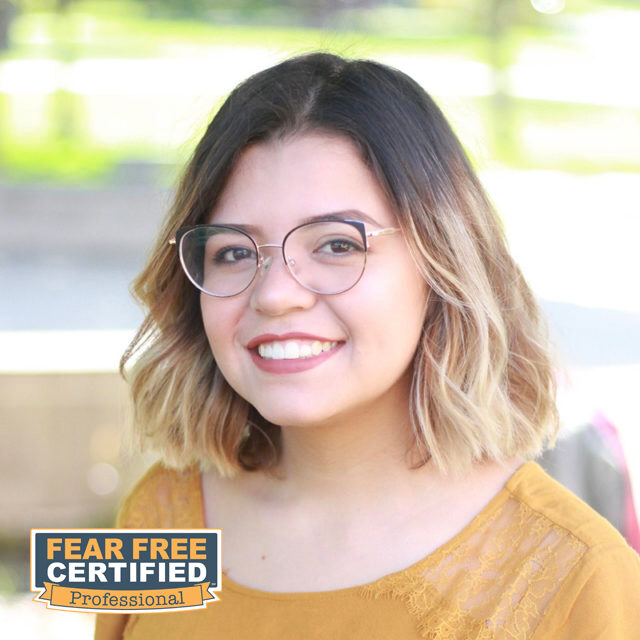 Jennifer
Veterinary Assistant
Jennifer
Veterinary Assistant
Joined AMC: December 2020
University of Illinois.
What I like best about AMC: I enjoy being part of such a kindhearted and devoted team. I have learned so much from them and we have lots of laughs along the way. I also enjoy watching our younger patients develop loving relationships with their owners and become confident and healthy pets.
Favorite AMC Memories: Anytime I am able to walk a dog around the facility to get some tender loving care from all the staff.
Greatest Life Accomplishment(s): Graduating with a Bachelor's in Animal Science and having the opportunity to build on what I've learned by working at the AMC.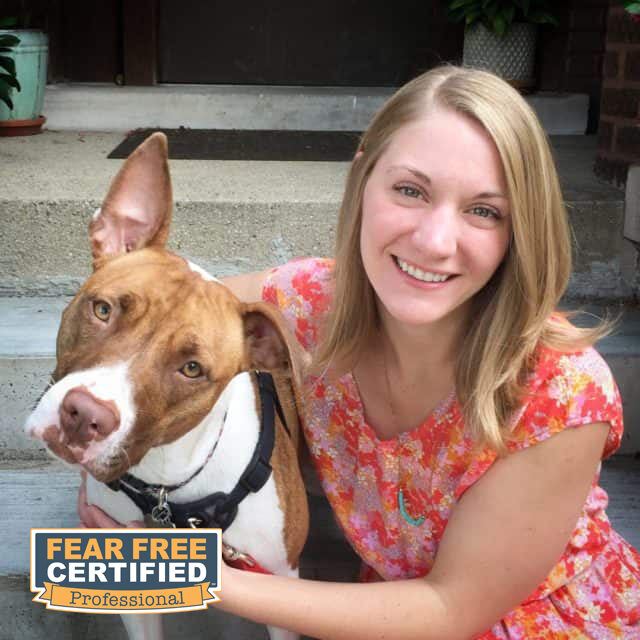 Kaitlyn
Veterinary Assistant
Kaitlyn
Veterinary Assistant
University of Illinois at Chicago
Favorite AMC memory: Recruiting our patient Pammie to help out at the front desk one day before her procedure. While she wasn't exactly the most efficient receptionist, she sure was the cutest.
What I like most about AMC: Meeting all the new and goofy puppies who haven't grown into their floppy paws yet!
Greatest life accomplishment: Rescuing my best friend furever and love of my life, Penny, from the local pound.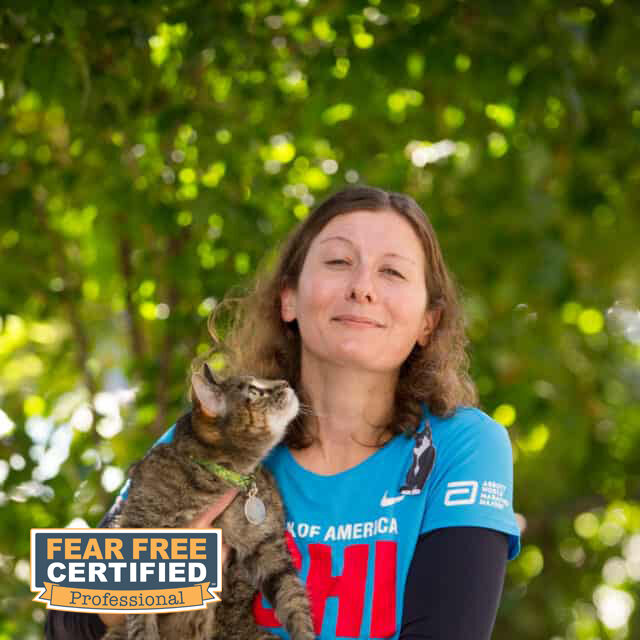 Debbie
Veterinary Assistant
Debbie
Veterinary Assistant
Joined AMC: September 5, 2006
What I like best about AMC: As I have been working here since the dawn of time, I really feel like I know many of our clients and patients quite well. It is always nice to see friendly faces!
Favorite AMC Memories: Thanks to Dr. Solomon for providing me with my cat, Tab, who provides me with hours of entertainment and fresh wounds on a daily basis. He is the greatest.
Greatest Life Accomplishment(s): A finely tuned sense of humor. Seriously, this took ages.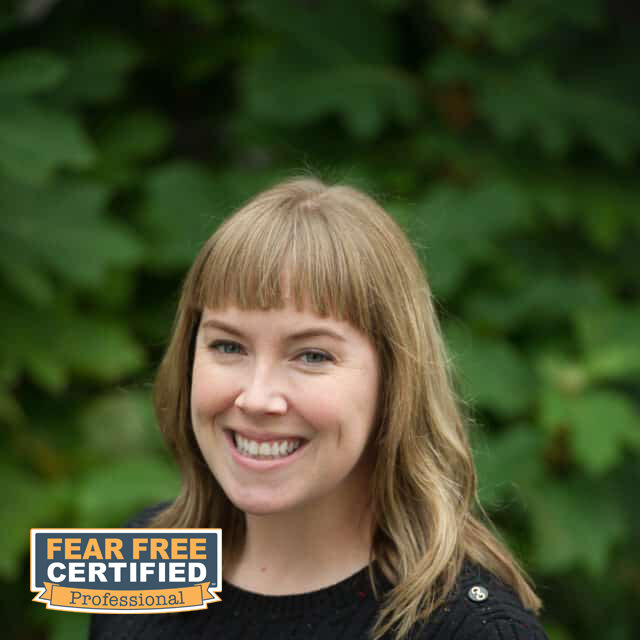 Deb
Veterinary Assistant
Joined AMC: June 2017
What I like best about AMC: Being part of a team that I can always count on for support and guidance. Also there is never a dull moment and I learn so much every day.
Favorite AMC Memories: Meeting all the golden retrievers! I am a golden girl and they always make me smile.
Greatest life accomplishment: Obtaining my Bachelor's degree, as well as serving the people and animals of Chicago through various careers and volunteer opportunities.
Care Coordinator Facilitator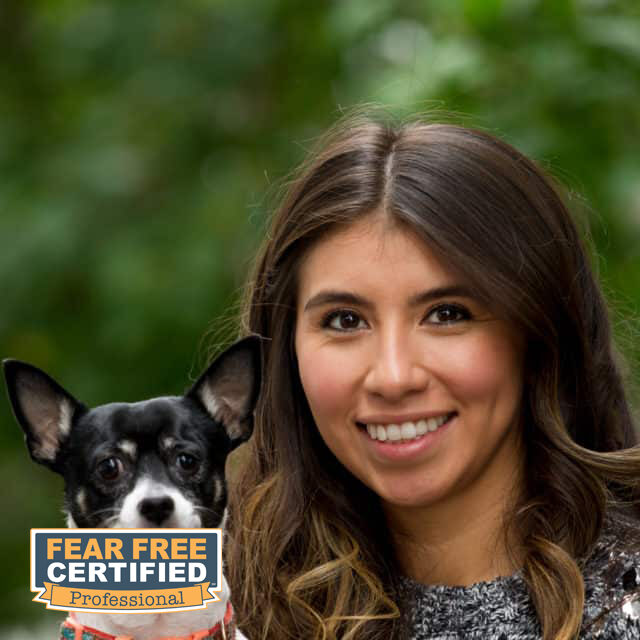 Fabi
Care Coordinator Facilitator
Joined AMC: September of 2014
In 2014, I began my career at AMCOC as a receptionist. It was fun greeting clients and giving treats to pets.  In 2015, I transitioned to a veterinarian assistant. In this role, I learned how important it was to respect a patient's body language. In 2019, I became Fear Free certified.  In 2021, I became the very first AMCOC Care Coordinator Facilitator where I now lead the Care Coordinator team in their delivery of excellent client service.  I am proud of my accomplishment at AMCOC and grateful for the many learning  opportunities it has provided me.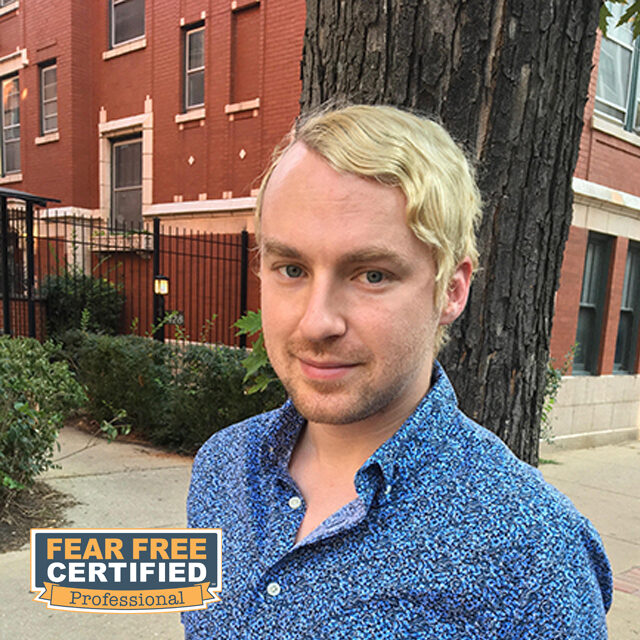 Kevin
Care Coordinator
What I love most about AMCOC is the passion and energy of the staff. I also love seeing all the beautiful pets and their amazing smiles as they enter the practice.
Favorite AMC memories:
Having the most adorable puppies keeping us company in the reception area, and having to defend my hatred of ice cream to the entire team.
Greatest life accomplishment:
My enthusiasm for life despite its circumstances.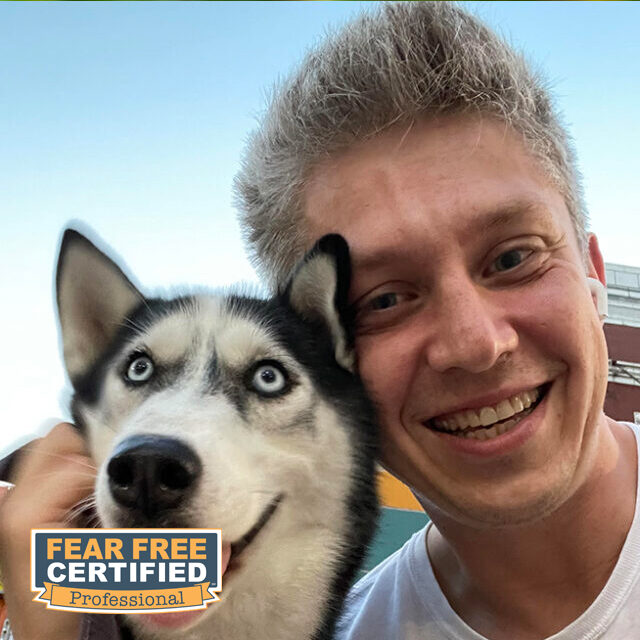 William
Care Coordinator
What I like best about AMC: I love getting to see how things work behind the scenes in animal care. All of the doctors here have so many stories about the patients they have interacted with and I cannot wait to hear them all. The entire staff is so talented at what they do that it's truly an inspiration to constantly be better.
Favorite AMC memories:
My favorite AMC memory so far has been speaking with the team and finding out about how they have come to be here. There are so many people who have been here for years and that makes it a truly welcoming environment to be in.
Greatest life accomplishment:
My greatest life accomplishment has been rediscovering my love of animals. I previously got lost along the way and thought about going to law school but where is the fun in that?! I am now on track to go back to school for a masters degree in environmental science with the goal of working for the National Parks Service and helping manage policy for wildlife. That sounds like a way better way to spend my days!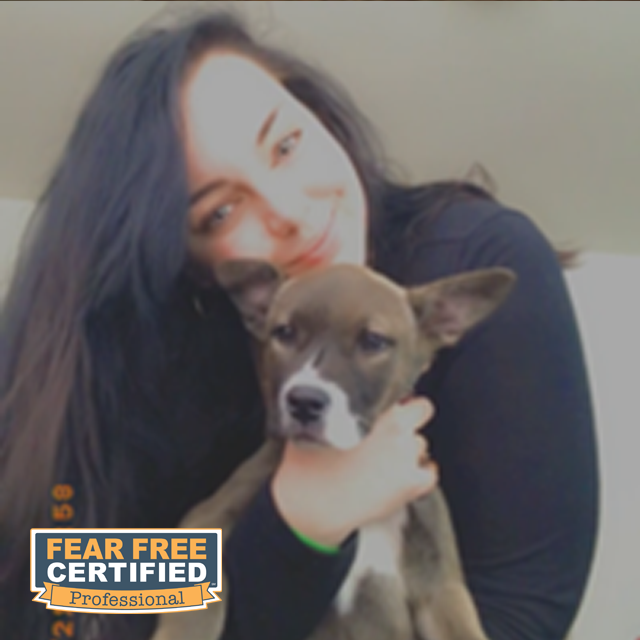 Jessica
Care Coordinator
What I love most about being at AMCOC is playing with all the adorable pets while I work. I also love seeing how excited pets are to see us.
Favorite AMCOC memories are watching pets not only play in the reception area but also try to help me with my paperwork!
Greatest life accomplishment is rescuing my three dogs Percy, Cleo and Sasha with plans for a fourth on the way!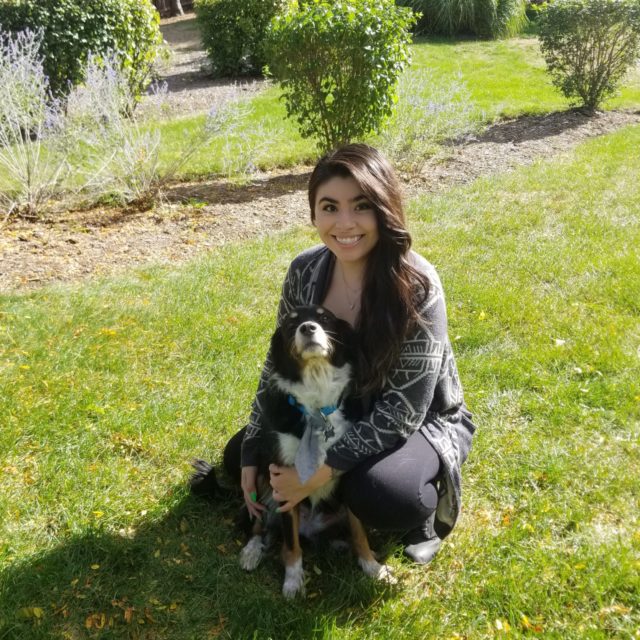 Samantha
Care Coordinator
Samantha
Care Coordinator
Joined AMC: January 2020
Art Institute College
What I like best about AMC: I love how involved we are with our community. Supporting local pet food drives, and wildlife organizations.
Favorite AMC Memories: Taking our team photo for the Spring Migration of Birds!
Greatest Life Accomplishment(s): Traveled to Greece and visited 3 islands in 2018. Also, a proud tia to my beautiful niece Leonora & mother of a sweet leopard gecko named Bow. My life accomplishment is working in a career that I'm passionate about; I love animals! This career fulfills my desire to help animals attain their best health.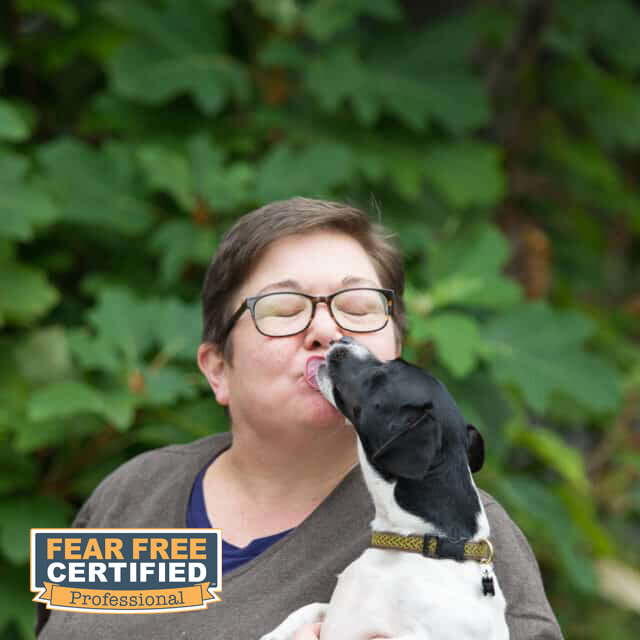 Sandra
Care Coordinator
North Park College
Joined AMC: August 2014, but I've been a client since 1991!
What I like best about AMC: Getting to meet so many awesome pets and getting to work with such smart, talented, and interesting people.
Favorite AMC Memories: Dressing up Dr. England's dog, Gladys, for photos in different Halloween costumes was really fun. She's a riot!
Greatest Life Accomplishment(s): What I consider an accomplishment changes from day to day, but I always get a lot of satisfaction from helping someone–person or dog–learn something new or figure something out. I also really like it when I take a great photograph that captures a pet's personality.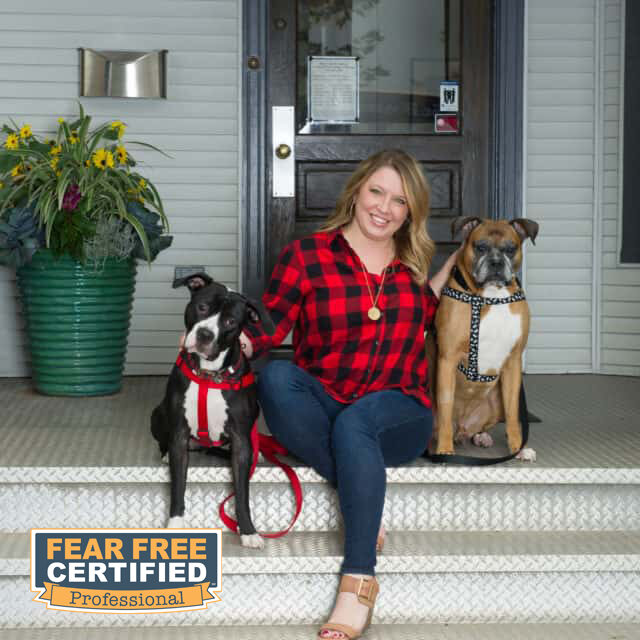 Nikki
Care Coordinator
Favorite AMC Moment: Whenever we get to have a patient "play receptionist" and hang out with us for the day.
What I like most about AMC: I love working with and learning from such an amazing group of people who share my same passions.
Experience the difference… schedule your appointment today!